Staff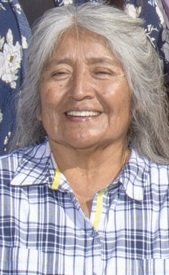 Ofelia Zepeda (Tohono O'odham), AILDI director, is a Regents' professor of linguistics and affiliate faculty in American Indian Studies at the University of Arizona. She teaches Tohono O'odham language courses and survey courses on American Indian languages. Her research areas include language variation, language policy, and issues of endangered languages. She has published numerous articles in these areas. She is also author of The Tohono O'odham Grammar and of two books of poetry, much of it written in the O'odham language.  Dr. Zepeda is also  the recipient of a MacArthur Fellowship  for her work on Indigenous languages. She has served on numerous boards and is currently a trustee of the Tohono O'odham Community College. Dr. Zepeda has been involved in AILDI practically since its inception as an instructor and founding co-director. Her breadth of experience in the field of language revitalization continues to guide the institution.
Dr. Zepeda's contact information is as follows:
(P) 520-621-8294
Her office is located in the Communication Building, Room 108B
Alyce Sadongei (Kiowa/Tohono O'odham), Project Coordinator, has a career history of working with Native American arts and culture. Prior to joining the AILDI staff, she worked at the Arizona State Museum (ASM) at the University of Arizona. While at ASM she served as principle investigator on numerous grants, the most primary being an eight year project that focused on tribal libraries, archives and museums and was implemented in partnership with the Arizona State Library. This project directly influenced the formation of a national association of tribal libraries, archives and museums. Additionally, she was the co-project director of several grants related to repatriation, consultation and research regarding the use of pesticides on museum objects subject to repatriation. Previous to her work at ASM she worked at the National Museum of the American Indian, Smithsonian Institution where she developed the internship program and other areas of outreach. She has also served on numerous boards and commissions.
Audrey Hambleton is the AILDI Administrative Assistant.  Audrey previously worked at Eller College at the University of Arizona. She brings a wealth of experience to the position and is familiar with financial and student systems. Audrey also has a degree in lingistics from Berkeley.
Joseph Dupris (Klamath-Modoc/Mnicoujou Lakota), Graduate Assistant, is a 2nd year University Fellow in the Joint Anthropology and Linguistics Ph.D. program at the University of Arizona. He's interested in language revitalization, maqlaqsyals (Klamath-Modoc) linguistics and linguistic anthropology.  He is also interested in the influence of political conflict, historical violence and linguistic ideology as it pertains to language shift in the Upper Klamath Basin (southern Oregon/northern California). Joseph teaches classes for the linguistics and anthropology departments and has taught the AILDI class LING 527/102 Linguistics for Native American Communities.
Monte Pablo Lopez (Tohono O'odham) is a senior undergraduate at the University of Arizona. Monte's double major is in American Indian Studies/Linguistics. Monte is interning with AILDI for the spring semester.